2018 Indonesia earthquake: Facts, FAQs, and how to help
by From the field on
August 20, 2018
A deadly magnitude-6.9 earthquake struck Indonesia's resort island of Lombok at 6:46 p.m. local time on Sunday, Aug. 5,
killing at least 430 people and injuring more than 1,300 others
. Hundreds of thousands of people have been displaced, rendered homeless amid hundreds of powerful aftershocks, one on
Aug. 9 registering a magnitude-5.9. The Aug. 9 aftershock caused more "trauma,"
says national disaster agency spokesman Sutopo Purwo Nugroho. More than 67,000 houses and 600 schools are damaged.
"Now more than 90 percent [of] buildings are damaged or destroyed," says Bevita Meidityawati, World Vision's response team leader in North Lombok. "Everyone is staying in open areas in their villages or mov[ing] to higher ground. Many are huddled together under large group tents. People need emergency shelter, food, clean water, and medicines. The children are terrified. Over 400 schools are closed because of earthquake damage."
About 1 million people reportedly live near the epicenter of the magnitude-6.9 quake. It was the second deadly earthquake to rock Lombok since July 29; an
earlier earthquake occurred on Sunday, July 29, killing 16 people
.
"Everyone in Lombok is panicked and on edge," says Margarettha Siregar, humanitarian and emergency affairs director for World Vision in Indonesia. "They've been experiencing these earthquakes for over a week now."
Due to the region's seismic activity, World Vision staff in Indonesia have been conducting earthquake emergency preparedness training since July 3. After the Aug. 5 quake, seven World Vision staff members have checked in as safe and unharmed, Margarettha says. Although World Vision staff are in the area, World Vision does not have programs or sponsored children on Lombok Island. The nearest World Vision project is located in Surabaya, more than 350 miles away — an hour by airplane from the affected area.
The earthquake on Sunday was the biggest temblor to strike Lombok Island; six other earthquakes of magnitude-6.5 or larger have been recorded over the previous century. The 2018 quake was so powerful, people on the island of Bali, more than 100 miles east, were rattled.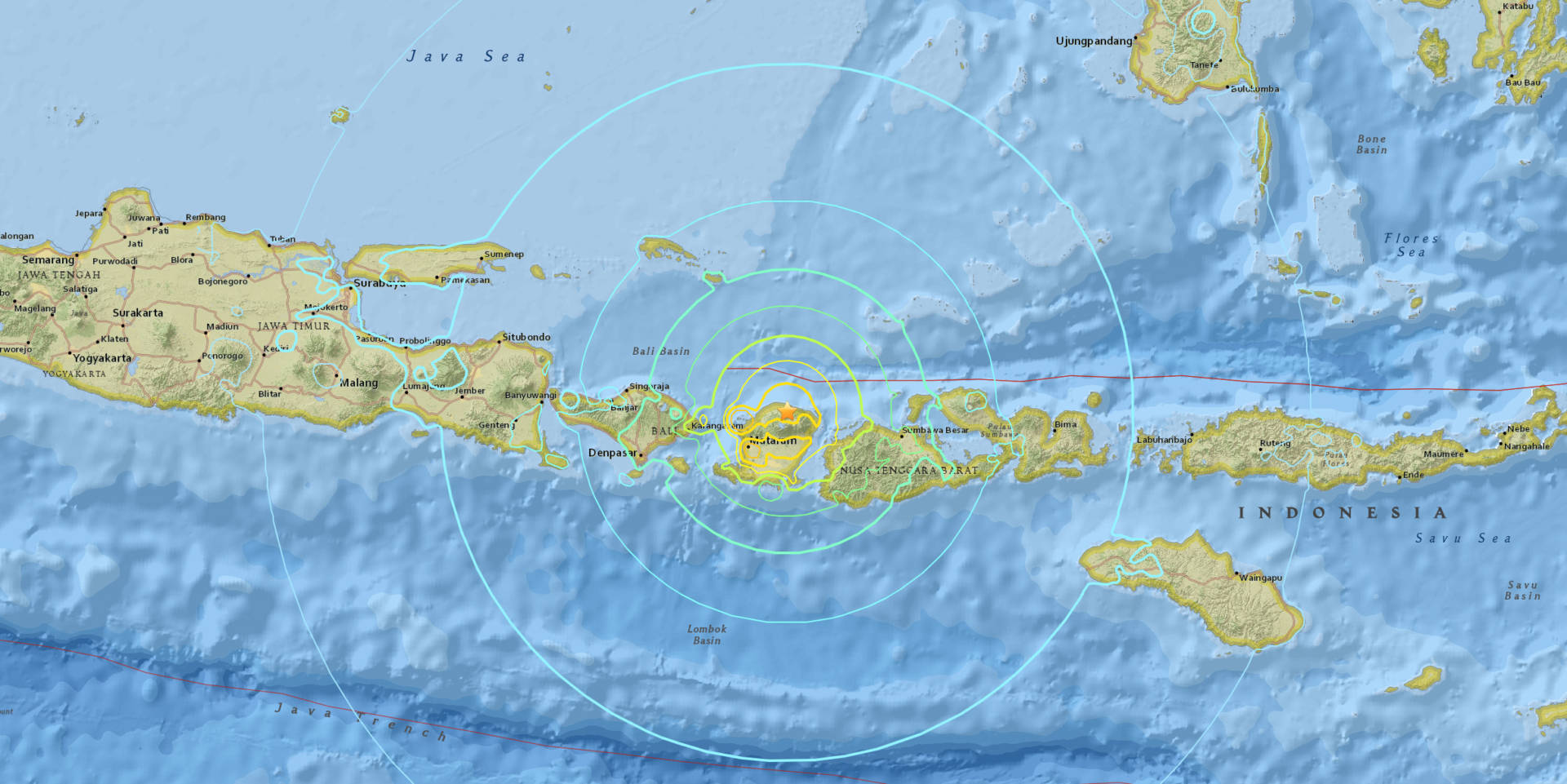 The epicenter of the magnitude-6.9 earthquake was 3 kilometers southeast of Loloan, Indonesia, near Pulau Lombok. (Map courtesy of the USGS)
FAQs: What you need to know about the 2018 Indonesia earthquake
Explore frequently asked questions about the Indonesia earthquake on Sunday, Aug. 5, and learn how you can help children and families impacted by the magnitude-6.9 quake and its aftershocks.
Where did the Indonesia earthquake hit?
The 2018 Indonesia earthquake was centered
nearly 2 miles southeast of Loloan, Indonesia, located on Lombok Island
. It triggered a tsunami warning, according to the Indonesian's Meteorological, Climatological and Geophysical Agency, but the tsunami warning was soon lifted.
BACK TO QUESTIONS
How can I help victims of the Indonesia earthquake?
World Vision staff are responding and mobilizing to deliver relief supplies to affected communities as quickly and safely as possible.
Give: Consider helping us continue the flow of emergency supplies by donating to World Vision's Indonesia earthquake relief fund.
Pray: Join us in praying for people affected by the earthquake as well as for World Vision staff and emergency responders have begun operations. Almighty Father, we ask for Your mercy on those affected by the earthquake. Protect people. Guide aid workers and emergency responders in the hard-hit areas and as relief measures begin in earnest.
BACK TO QUESTIONS
How is World Vision responding to the Indonesia earthquake?
World Vision's response is focusing on child protection, educational programs for children, and water, sanitation, and hygiene.
Child-Friendly Spaces provide children a safe place to learn and play. About 740 children have participated so far. "There were two children today who drew pictures of their families with sad faces and said it was because they are scared of all the earthquakes," Bevita says.
As of Aug. 14, about 379 families have received kits including tarpaulins, blankets, and hygiene kits. About 30 teachers have also received pyscho-social training to be able to help students.
BACK TO QUESTIONS
back