A Gift that keeps giving – the ripple effect of the gift of a goat
by World Vision Church Resources on
October 30, 2018
A goat from the World Vision Gift Catalog may seem like a simple gift. But Like a growing light, that single act of generosity can cascade into more gifts that enable families to climb out of poverty and children to walk into a brighter future. John's family in Zambia is one of the examples.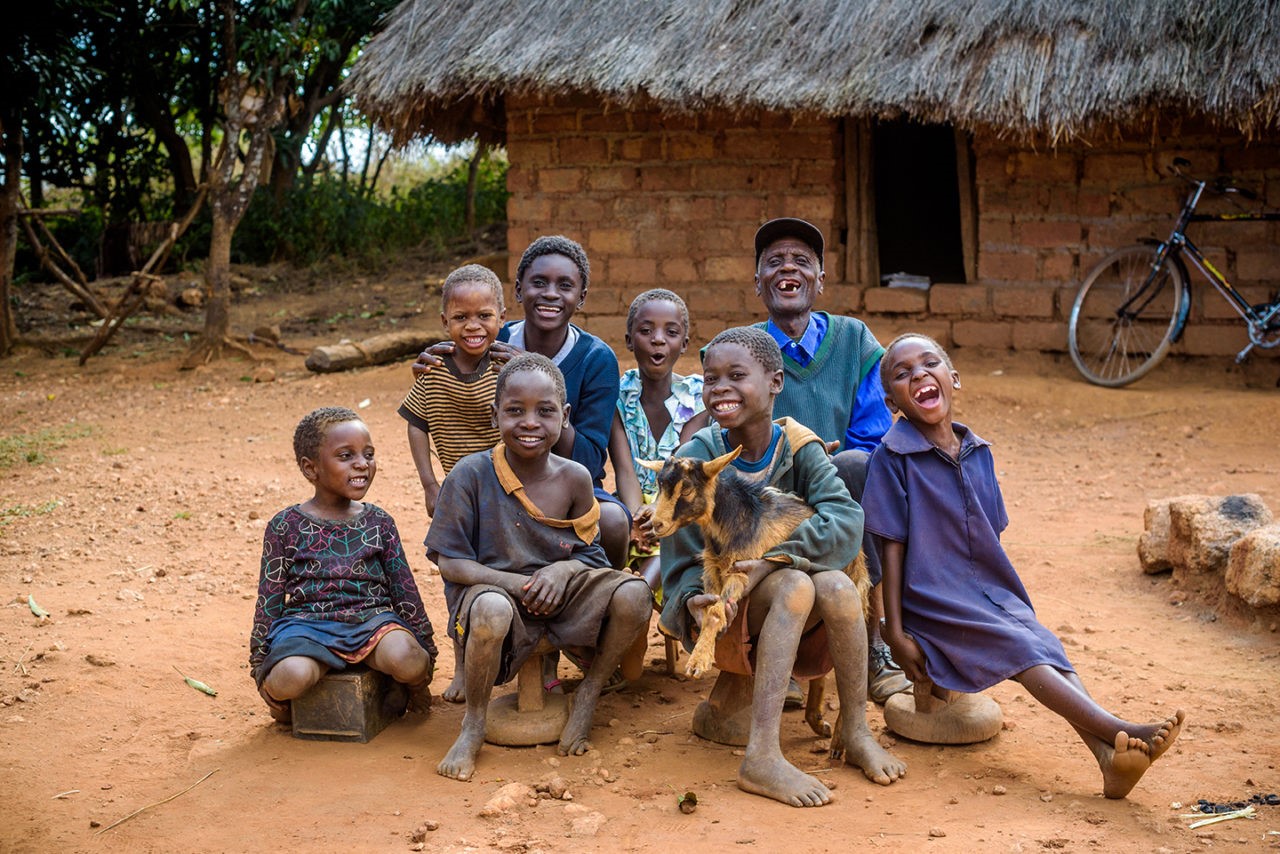 John, 74 (right in the back) and Belita, 64, sit with their family in front of their home. The goats they received have helped them improve their lives.
For the past six years, John and Belita have been caring for seven grandchildren.
Late in life, they were dealt a harsh hand. One of their daughters died, leaving four orphaned children. Another daughter separated from her husband and had no means to provide for her children, so she went to Lusaka, the capital, to look for work and left the children with her parents. The children's father doesn't offer any assistance.
John is 74 and Belita is 64, so neither of them have as much energy as they used to, especially to run after young children.
It hasn't been easy. The grandkids would often cry for food or become listless. "Sometimes they would just stop playing," says John. "And I would truly know that this child is very hungry."
Arguments broke out over meals. "I want to be full," the children would cry as they fought for every scrap. John and Belita tried to make sure their grandchildren had food and would themselves go without. But they also needed to keep up their strength for farming.
Sometimes the only food available was nshima — a polenta-like Zambian staple made from corn. Other times they supplemented with a meager selection of cabbage or onions from their garden.
"I used to feel very bad knowing that I was unable to provide for my grandchildren," John says. "And sometimes I would feel embarrassed because I would look everywhere and could not find anything to give to my grandchildren that would sustain their stomachs."
When there was nothing else, they would go into the bush and scrounge for tubers, which could be bitter or even harmful if not cooked correctly. "That's how the day would pass, and we would look to another day," he says.
John grew a few vegetables and bananas in their garden, and sometimes he had extra harvest to sell—their only income. But he says, "I couldn't manage to take care of my family only selling vegetables and bananas."
Besides feeding the grandchildren, he faced regular payments on their school fees, uniforms, and school supplies; that's a big bill with five children in school. He often missed payments, and if he missed too many, the children were no longer welcome in class. Missing school meant missing a chance at a better life.
Sponsorship provides a strong foundation
In 2011, World Vision started sponsorship in John's community, and things began improving. Families in the U.S. sponsored three of John's grandchildren: Kizwell, Tesha, and Reward. Another of his grandsons, Nature, is registered and available to be sponsored.
John also joined the village hygiene committee in 2012 and learned many ways to improve his family's health. Now they dry their dishes on an elevated drying rack. They have a pit latrine, a hand-washing station, and a designated hole for garbage.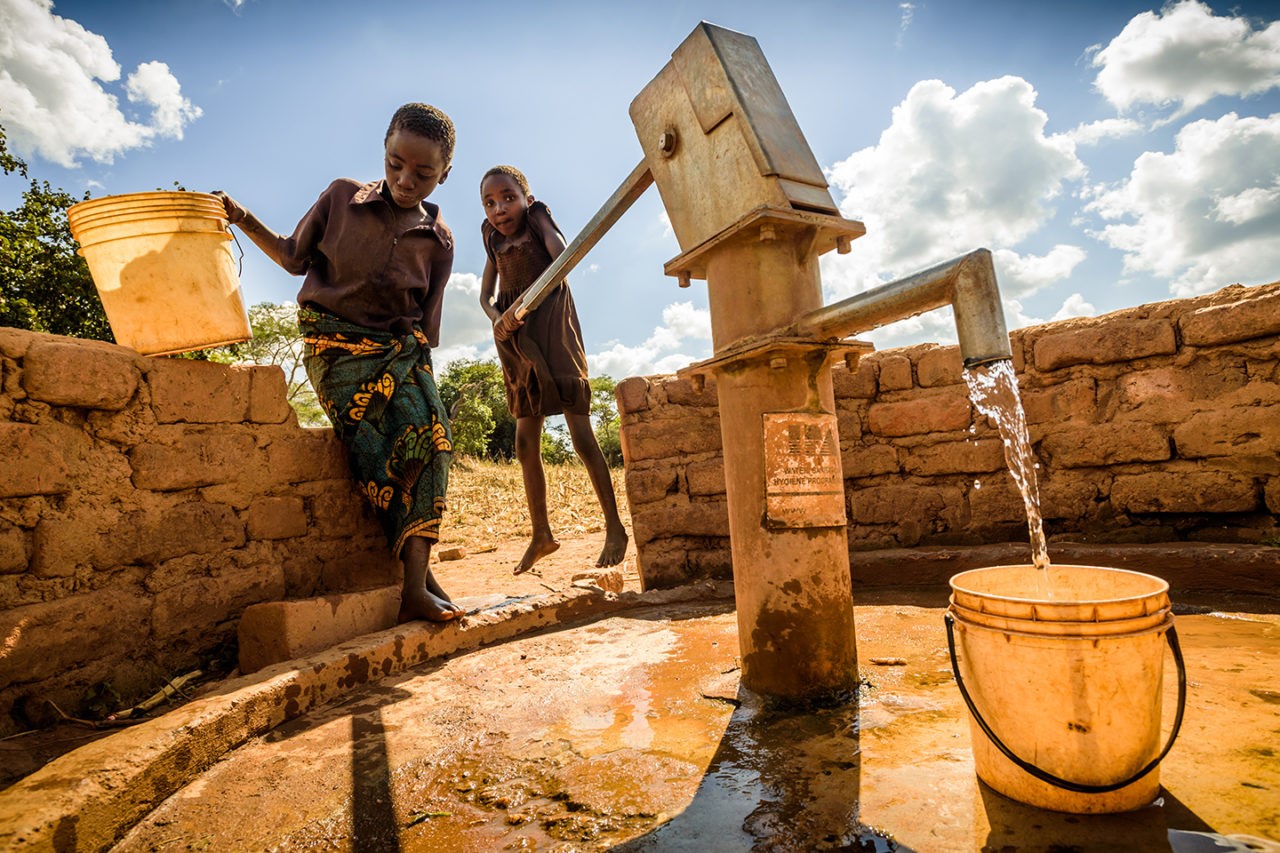 8-year-old Miyoba (right) and 10-year-old Matrida help the family by collecting water at a World Vision-built borehole well. Before the well was drilled, the family had to walk 30 to 40 minutes.
John appreciates all that sponsorship has meant for his grandchildren, himself, and his neighbors. Child sponsorship forms a foundation for the good work from which the entire community benefits.
Kizwell's sponsor sent a Special Gift, which the family used to buy shoes, clothes, and a school bag and to pay school fees. They also received two bicycles, one of which Tesha rides to school. John rides the other to the hospital, where he's a committee member in charge of caring for the hospital's physical surroundings.
Goats provide a new outlook
Despite all the improvements, John longed for something that would allow him more control over his own destiny. In 2015, a member of the program committee contacted John's family saying that five goats were on the way.
"After receiving that news, I was not calm. I was so excited. I really wanted the goats," John says. "I knew my problems would be lessened. The goats are kind of like a savings account. If I take very good care of them, they reproduce, so that means more money."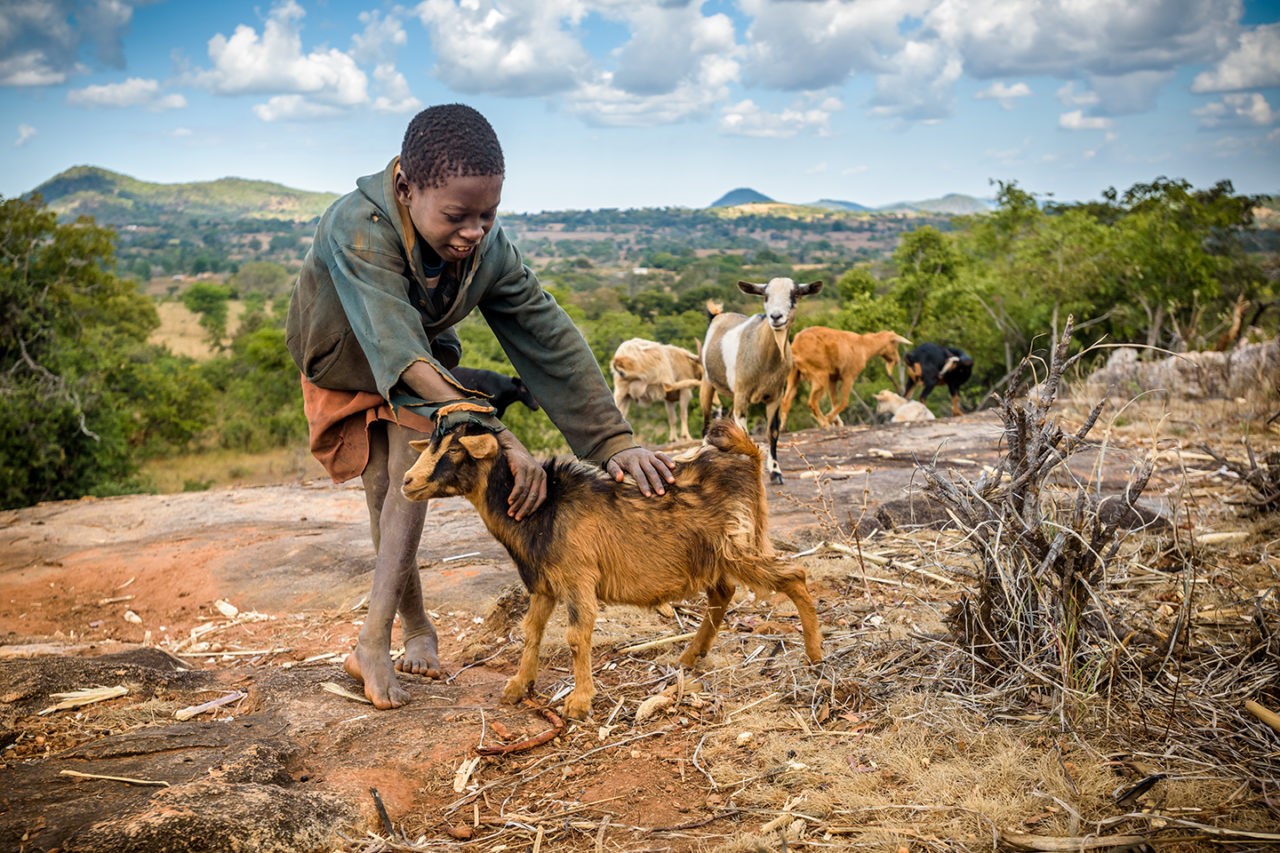 Grandsons like 10-year-old Kizwell are in charge of tending the goats.
That "savings account" has already yielded dividends. As the goats reproduced, John sold some animals to raise money for school costs. "I may delay [payment] a bit, but I can't compare it to how it was before," he says.
He also expanded his garden from 500 plants to 1,000 by buying fertilizer and renting a plow. For the first time, he grew corn because he could afford to pay people to work the land alongside him and his wife.
John's not finished yet. He hopes that as his goats multiply, he'll earn enough to buy a cow. That means easier plowing and greater crop yields. He'll need 12 goats for that purchase, and he has nine now.
Belita joined one of World Vision's new savings groups in March 2017. She's managed to save 40 kwacha, or US$4.50, so far. They've never had this amount of money in their savings. Before, any money went to immediate needs.
John focuses on the good things he now has thanks to sponsorship and the goats. He believes the multiplying animals will enable his grandchildren to finish school and achieve their dreams.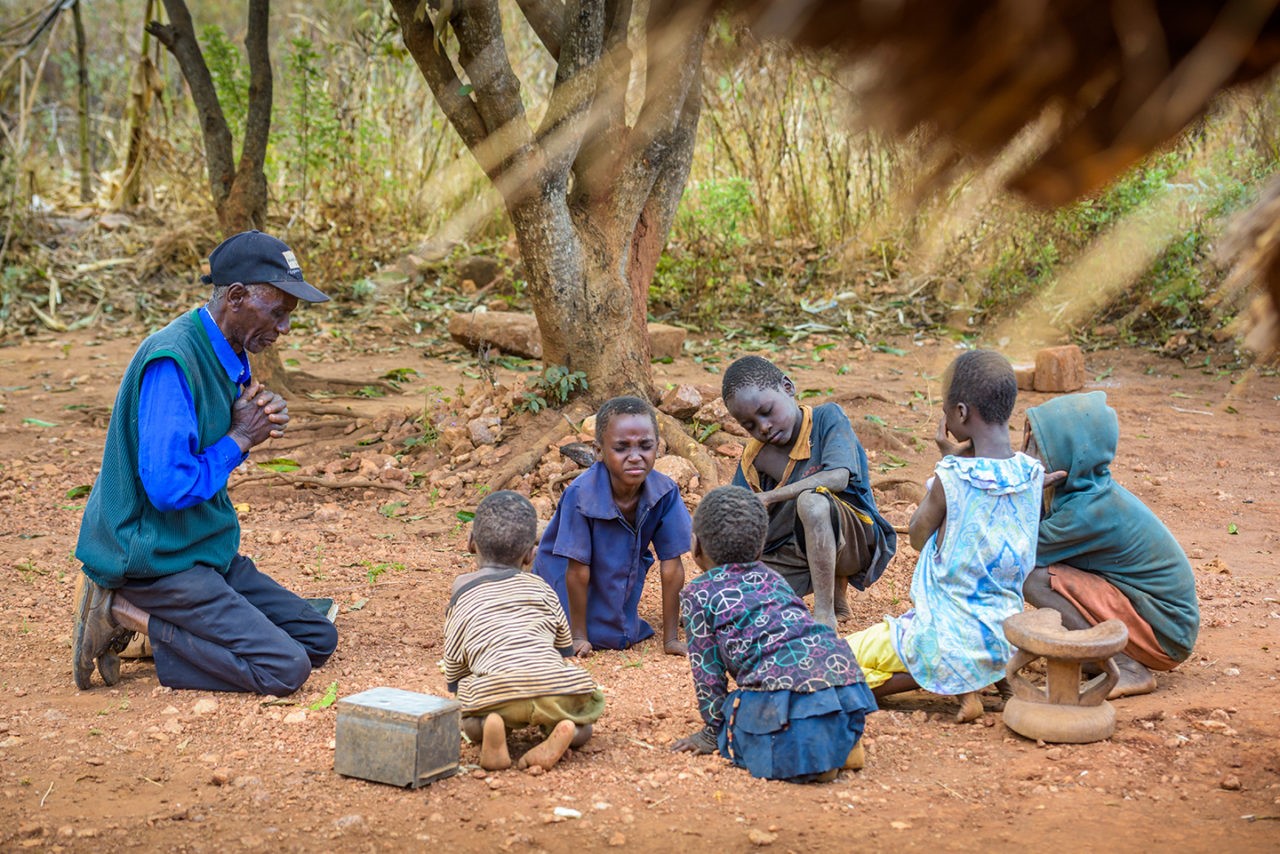 John takes time every day to sing songs, read the Bible, and pray with his grandchildren.
A heart of generosity
John believes the people who donated goats have good hearts. "I would tell them that I am very grateful for what they have done — for the goats they have donated to me — because they have helped to improve my life. Where I was in the past is no longer where I am today."
John says, "It's very important to be generous because God himself said it in the Bible that you should love your neighbor as much as you love yourself. Therefore, it is important to share with others."
Only a year later, it was John's turn to share five goats. He says, "I was really excited because I was also helped, and I needed to help another family."
After John and other families shared goats in 2016, the program expanded into a new zone with 243 goats for families in need.
When churches and families in America give goats and other animals through World Vision Gift Catalog, they probably never knew the ever-expanding impact they'd create. But that impact is rippling outward. Families all over the world can dare to dream, thanks to that simple act of generosity.
back